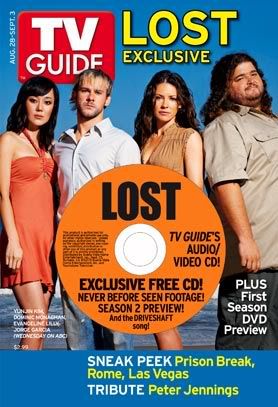 Yeah, I saw this in the grocery store, and with that little CD there (including two deleted scenes found "nowhere else"--so I assume they're not on the DVD set) I couldn't resist. :-) I don't usually buy TV Guides (especially since I don't own a TV and live in a house with a newspaper TV guide available weekly, for free) this time I was suckered in by the checkout aisle display. I'm definately looking forward to the premier of the new season. :-)
Girlfriends:: boyfriends

Here to stay:: Social Security

Call me:: have your people (call my people)

Frustrated:: beyond belief (I'm not sure where this came from, but it makes sense, right? :-))

Public school:: private schools

Glitch:: monkey wrench

Cheese:: Bleu

Director:: of Special Projects

Pivotal:: event (i.e. the Battle of Saratoga)

Exclusive:: coverage

Let me see, what else is going on. Oh yeah, things have been pretty dead around the exhibit lately. Last Wednesday - 65 people (we formerly had at least 100 something every day), Thursday - 39, Monday - 47, Tuesday - 58, Today - 48. It is pretty boring at times, but I do have my books for when no customers are around, ;-). I've started the first book of
The Second Chronicles of Thomas Covenant the Unbeliever
and I'm in the first paperback volume of
To Green Angel Tower
, so my chapter of one book then the other reading plan is still going strong.
Tonight at the library I checked out another audio book, but found a CD missing when I went to put it into my CD changer. Thankfully I'd not left the library so I just took it inside and they didn't blame me for the loss. :-) *sigh* But I'm now without an audio book yet again--this one was a condensation of the Lewis and Clark journals and I was looking forward to it. There aren't many CD audio books on the shelf, and I don't know any titles to search on-line--I'd rather just persuse shelves. So I'm a bit stuck right now until I think of something.
I can't think of anything else, so I'm signing off for now, ;-).
~Matt