This post is brought to you by
LunaNiña
and my surpise!
Julie:: Snyder

Emotional:: breakdown

Head of household:: Big Brother (not my favourite show, but I watched a couple episodes when I was home alone over the summer and bored)

Diva:: drama queen

Devastation:: Katrina

Business or pleasure:: decision

Crown:: Prince

Eastern:: Roman Empire (The Byzantime Empire was cool! Sadly they missed the beginning of the American (i.e. post 1492--and I mean the New World, not the United States) era by only 39 years!! :'( )

Buzzed:: drunk

Officer:: license and registration (No, I've never been pulled over, just seen too many cop shows, ;-))

Well nothing too terribly exciting or unusual there, right? Well I do have something else...:-) Here is a hint: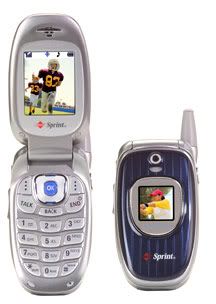 Yep, I have a cell phone! :-) Now I have to share 800 minutes with my brother-in-law, sister, and the two oldest nephews share the fourth phone. However, this shouldn't be a problem as we have free Sprint-to-Sprint and nights (starting 21:00
Eastern
) and weekends are free! :-) Yeah, I might start calling some of you on the west coast now--at least occasionally. The phone was completely free at Best Buy! I love that store...:-) Well more news later, I'm off to play with my phone. It is a Samsung A740. I wouldn't have gotten one so nice if it hadn't been free with the plan--I don't care about pictures as I have a much better digital camera and don't ever plan to pay for sending pictures...*shrugs* But I can have pictures as my phone's background now, so that is cool! Right now I have one of my two local neices.
~Matt