Well another movie tonight. I watched
Open Range
after a couple episodes of DS9. First I watched
Our Man Bashir
, which I'd been wanting to see again for a while. It is one of my favourite DS9 episodes. Dr. Julian Bashir is in the holosuite with his favourite program.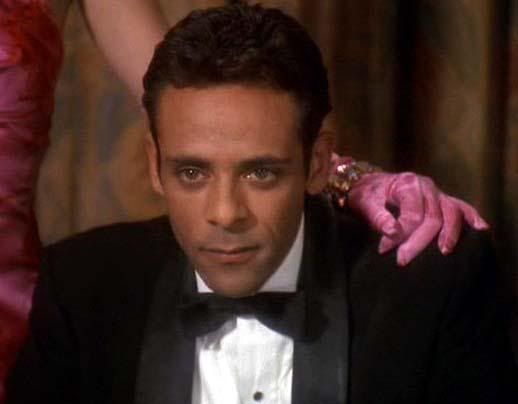 The year is 1964. He is Bashir, Julian Bashir. (Yes, cue the James Bond theme here) He masquerades as a jet-setting playboy in his luxurious Hong Kong apartment, but he is actually a talented secret agent for Great Britain! :-)
After Garak interrupts the program the two continue on to enjoy the program and the exploits of a James Bondish spy. Unfortunately as the rest of the senior staff (sans Odo) are returning in a runabout it explodes just as they are beaming off. With only seconds before their patterns degrade in the damaged transporter buffers Eddington and Odo store the patterns wherever the computer can find room. Physical paramaters are transmitted to the holosuite where various characters take on the appearance of the crew. Bashir must keep the program running and the characters alive, or the crew will lose their bodies forever!
Okay, how was that for a long-winded promotional write-up? :-) I didn't quite mean to type all that, but it just came flowing out of my fingers. It is a great episode to watch, especially as the actors get to play different characters. Avery Brooks does a great job as the diabolical villian Hippocrates Noah.
I've seen
Open Range
a couple times before, the first in theaters. It was still enjoyable though. I actually enjoyed the entire movie, though it might seem slow at times. However, I really enjoyed the gun fight sequence. While it featured a couple inconsistencies such as gunshot victims flying backwards (see Mythbusters where they conclusively demonstrated the impossibility of this common Hollywood stunt) it was quite interesting. Perhaps I've seen too many John Wayne era (no offence to the Duke or his movies, ;-)) movies (or their like) with their currently apparant lack of realism that I especially enjoyed this. The gunfight starts in the street but quickly changes to employ cover up and down the street. Also it isn't over within seconds, but actually drags out over several minutes in a quite believable sequence.
Well I don't want to finish my books too quickly, but neither do I want to go through them too slowly. ;-) I started reading them one chapter at a time today--I think I'm caught up enough that I should finish them roughly at the same time. While Weber's novel is good I'm really enjoying Williams
Shadowmarch
. He always does an excellent job with his characters and settings.
~Matt